"K" Beach Balloon Unit was one of the specialist R.A.F. units formed in the U.K., at quite short notice, for the invasion of Sicily.
Formation
F/O Burn was posted to Command "K" Balloon Unit (Beach) at R.A.F. West Kirby, on 21st May 1943. On 29th May at 11.00 hrs, he was in Whitehall for a preliminary meeting at the Air Ministry.
The personnel of "K" Balloon Unit paraded for the first time as a unit at West Kirby on 1st June 1943 and then proceeded to No. 1 Balloon Training Unit at R.A.F. Cardington for a refresher course. F/O Burn left Cardington on 3rd June to go to Tring and then West Kirby to sort out equipment for the Unit.
The Unit returned to West Kirby and then moved to Troon. Between 10th June and 13th June, the personnel of the Unit embarked at various ports for an exercise. This took place on 18th and 19th June.
At 12.00 hrs on 24th June, the Unit's convoy (identified as KMS-18B) sailed from the Clyde, headed for the Mediterranean.
Operation "HUSKY"
Off the coast of Algeria on 4th July, the "St Essylt", carrying Unit equipment, Cpl. Millin and L.A.C.s Haskins and Leeks, was torpedoed at approximately 22.00 hrs. The following day, "Devis", also conveying Unit equipment, accompanied by Cpl. Tye, and L.A.C.s Webb and Watson, was torpedoed at approximately 16.00 hrs.
Those rescued from "St Essylt" were landed at Algiers, while the survivors from "Devis" were landed at Bougie.
L.A.C. Webb was not a survivor. 22-year-old Frank Herbert Webb, son of Alfred Webb M.M. and F. E. P. Webb of Leytonstone, Essex, is commemorated on the Malta Memorial.
Only Cpl Tye and L.A.C. Watson, from "Devis", subsequently re-joined "K" Balloon Unit. The three airmen on "St Essylt" were probably assigned to other units after landing in Algiers.
On 10th July, off Sicily, owing to these shipping losses, the situation regarding equipment and personnel was as follows:
Part I Equipment (Initial Barrage) ¼ lost.
Part II Equipment (Supplementary) ⅓ lost.
Personnel ⅓ missing
At 02.45 hrs on the 10th July 1943, D-Day for Operation "HUSKY", inflation of three balloons on each of the three remaining ships was commenced, and between 08.00 and 10.30, all nine balloons were transferred to, and flying from the beach.
This was Beach 57, known as "BARK" West and divided into "Roger" and Sugar" sectors. It lay on the west of the Pachino peninsula in a wide shallow bay between Punta Castellazo and Punta di Formiche. It was the landing area for the 1st Canadian Division, where Nos. 3 and 4 Beach Groups operated, with Nos. 68 and 69 R.A.F. Beach Units attached. Liaison work was carried out by "K" Balloon Unit, and a campsite found.
From 11th to 15th July they were doing their best to cover a length of beach that extended to four miles. They adjusted the balloons to cover further landing on the beach, but they were unable to increase the balloon barrage because of their equipment losses. There were minor air raids.
On 16th July, Beach No. 57 was being abandoned so the Unit arranged to transfer to Beach No. 56. This was the "BARK" South area where the 51st Division had landed and was a more suitable location for the Beach Maintenance Area. An advanced party from "K" Balloon Unit arrived there with the Unit's Part III Equipment. At 12.30 hrs, a Despatch Rider arrived from 244 Wing with a signal saying that Syracuse and Augusta required assistance. Arrangements were completed and the advance party and equipment went to Syracuse. At 18.30 hrs, F/Lt. Richardson of No. 1 Port Balloon Detachment was contacted. He said that they did not require any assistance!
The following afternoon F/Lt. Gates ("F" Beach Balloon Unit) contacted F/O Burn with instructions from Rear H.Q. Desert Air Force to combine units operationally and be ready to proceed to Catania.
It was found that, 1257637 Cpl. Tye A. and 874728 L.A.C. Watson, W., two of the torpedoed airmen, had landed in Sicily and attached themselves temporarily to "F" Beach Balloon Unit.
Working with other Beach Balloon Units
Between 19th and 26th July equipment was collected from the beaches in the South of the island and brought by road to Units' camp site in the Park at Carlentini.
At 05.30 hrs on 5th August, the combined "F" and "K" Balloon Units moved to Catania, where they inflated and flew a barrage of four balloons and established their Headquarters. The next day they increased the barrage to nine balloons and re-adjusted the positions. F/Lt. Gates received orders for "F" Unit to return to North Africa and F/Lt. Hood of "L" Unit arrived to take charge pending that Unit moving to Catania.
In the morning of 13th August F/O Burn visited R.H.Q. Desert Air Force and reported completion of work as instructed. On 18th August the Unit received orders to re-equip and to establish itself at Catania Airport in conjunction with No. 4 Beach Balloon Detachment (Officer Commanding – F/O Peachy) to assist in clearing hangars.
Eleven days later, on 29th August, they began moving equipment to Catania Port ready to embark for further landing operations. The M.T. Party went to the Waterproofing Area.
Operation "BAYTOWN"
On 1st September 1943, "K" Balloon Unit were at Augusta en route for a new landing operation, and at 18.00 hrs the next day they were sailing out of Augusta in convoy.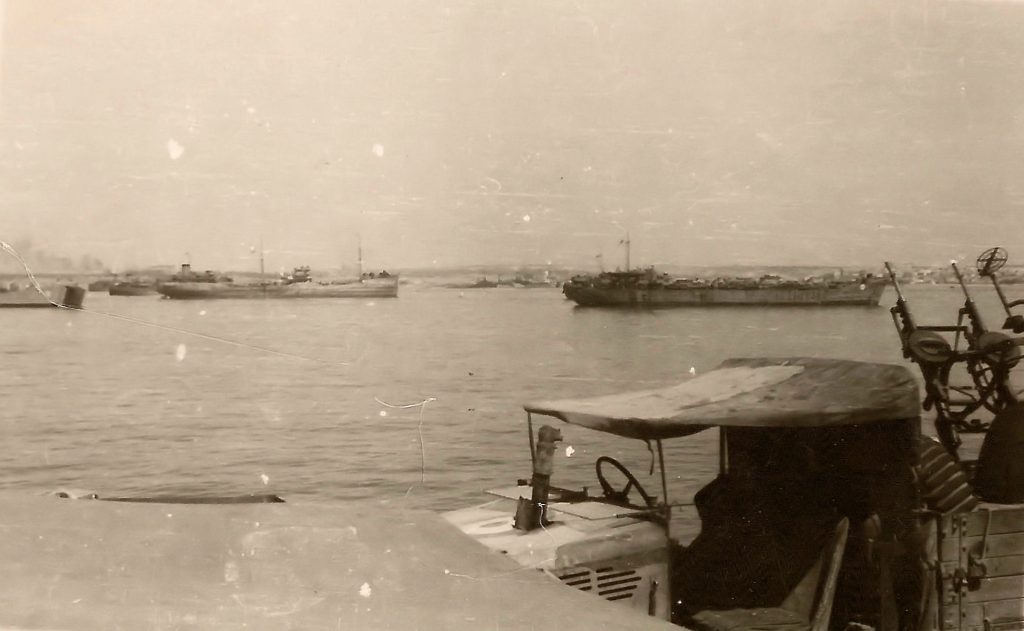 Between 10.00 and 11.30 hrs on 3rd September, D-Day for Operation "BAYTOWN", F/O Burn and two other ranks landed on FOX Beach just north of Reggio di Calabria (between the mouth of the Fiumara dell'Annunziata and the mouth of the Torrente Torbido further north). They took over six balloons already flying and contacted S/Ldr. Shepherd, the Balloon Liaison Officer.
At 15.00 hrs No. 1 Party landed, consisting of one Sergeant and eight men. Then at 19.00 hrs, No. 2 Party landed. All personnel and equipment were accounted for. Seven enemy air attacks were recorded, with bombs dropping in the target area on each occasion.
On 5th September the Unit increased its barrage by one balloon, making a total of seven balloons. Five balloon casualties were replaced and the barrage was maintained.
At 11.00 hrs on 6th September instructions were received from the A.A.D.C. that FOX Beach was closed and the port of Reggio was instead, to be covered by the Unit's barrage. The Unit completed the transfer of their balloons to Reggio by 18.00 hrs.
On instructions from Rear H.Q. Desert Air Force "K" Balloon Unit combined with No. 4 Beach Balloon Detachment (F/O Peachy C.O.) to form "K4" Unit.
On 16th September further instructions were received (dated 9th September) which said that "K4" was to be attached to No. 972 Balloon Squadron, and on 20th September orders were received from Officer Commanding No. 972 Squadron that the Unit should deflate their balloons at Reggio. They spent the next day deflating their barrage over the port.
F/O Burn and "K" Unit moved to Messina, in Sicily, on 23rd September on attachment to No. 972 Squadron and at the end of September 1943 they were in billets with No. 972 Squadron in Messina.
---
The main source of information on this page is:
The Operations Record Book of K Balloon Unit (Beach) – found in, 'Air Ministry and Ministry of Defence: Operations Record Books, Miscellaneous Units' AIR 29/58/21 at The National Archives.

Further information on Operation "HUSKY" comes from:
Molony, C. J. C. "The Mediterranean and Middle East Vol. 5, The Campaign in Sicily 1943 and the Campaign in Italy 3rd September 1943 to 31st March 1944", 1973, Chapters I to V.
---