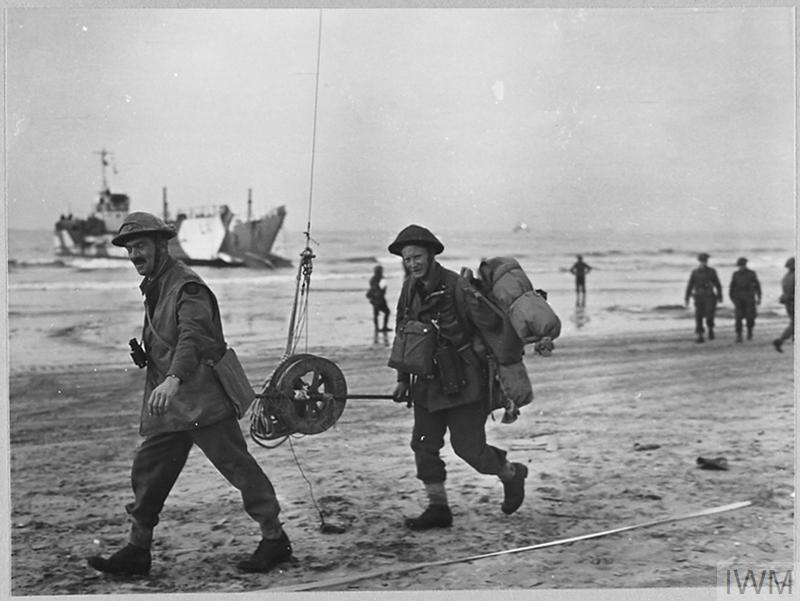 ---
Beach Balloon Units in Operation "OVERLORD"
The Beach Balloon Squadrons landing in Normandy were:
In addition, No. 104 "P" Flight went across on 18th June to provide balloon cover at Port-en-Bessin.
Formation and Purpose
The RAF Beach Balloon Squadrons were created to link smaller units, in much the same way as the RAF Beach Squadrons joined two smaller units. An RAF Beach Balloon Unit had been attached to each of the two Army Beach Groups in each Beach Sub Area. It was realised that these should be more closely linked and represented at Beach Sub Area level so, for each Beach Sub Area, the two Beach Balloon Units were renamed Beach Balloon Flights and, with the addition of a Squadron Leader in command, were formed into a Beach Balloon Squadron.
Each Beach Balloon Squadron came under the control of the Army's anti-aircraft defence commander but for administrative purposes was attached to an RAF Beach Squadron and so, came under the command of the RAF Beach Squadron commander, who was the senior RAF officer (C.R.A.F.) in a Beach Sub Area. The exception was No. 991 Beach Balloon Squadron, operating independently at the Mulberry harbour, which had its own headquarters.
The formation of Balloon Units in to Squadrons meant that each Squadron Commander could not only exercise the necessary control over his Squadron but also, by his status was able to attend on the appropriate level at Beach Sub Area Conferences, which was considered essential following experience gained in exercises (in particular, Exercise GOLDBRAID).
Soon after this re-organisation, in April 1944, control of the Beach Balloon Squadrons passed from RAF Balloon Command to 2nd Tactical Air Force. Each Squadron had an establishment of 60 Mark VI Type Balloons.
See Beach-head Balloon Defence to learn how it was planned to employ balloons in Normandy.
After August 1944
At the end of August 1944, when the R.A.F. Beach Squadrons were withdrawn from Normandy to the U.K. and disbanded, No.159 Balloon Wing was formed in No. 85 (Base) Group to administer the balloon units in Normandy. When this took effect at the beginning of September, No. 991 Beach Balloon Squadron was re-designated as No. 991 Port Balloon Squadron.
At the end of September, Nos. 974 and 980 Beach Balloon Squadrons were withdrawn to the U.K. and disbanded in early October, leaving No. 976 Beach Balloon Squadron, No. 991 'P' Balloon Squadron and No. 104 'P' Balloon Flight in Normandy.
In November 1944, No. 976 Beach Balloon Squadron changed to a Port Balloon Squadron and Nos. 976 and 991 Squadrons moved from Normandy to Belgium. In the U.K., Nos. 974 and 980 Squadrons were re-formed as Port Balloon Squadrons and returned to the Continent in December. No. 104 'P' Balloon Flight, after a special assignment with the U.S. 1st Army at Aachen, became one of the two Flights in 974 Squadron.
Thus, all the Normandy balloon squadrons became Port Balloon Squadrons and had moved to Belgium by the end of 1944.
---
Acknowledgement:
Many thanks are due to Michael Tatnell, whose father served with No. 104 "P" Flight. for sharing copies of the Operations Record Books of the Normandy balloon units, where available. Really, it was his diligent research and the quantity of information that he obtained from The National Archives that prompted the creation of this website.
---